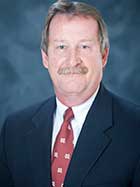 L. Wes Burger, Jr. was named W.L. Giles Distinguished Professor of Wildlife Ecology in the Department of Wildlife, Fisheries, and Aquaculture in 2018. With 25 years of experience as a faculty and research administrator, Dr. Burger has developed nationally and internationally recognized research, teaching, and outreach programs characterized by sustained extramural support, high productivity as measured by impactful scholarly products, effective technology transfer to stakeholders and agencies, and cultivation of a cadre of former graduate students who now populate academic institutions, NGOs, and state and federal agencies throughout the country.
His formal educational background includes B.S. degrees in Mathematics and Biology from Murray State University and M.S. and Ph.D. in Wildlife Biology from University of Missouri. Dr. Burger's research has focused on the ecology and management of disturbance-dependent upland birds in managed landscapes. His research interests in avian ecology include: thermoregulation, lipid dynamics, mating systems, population ecology, habitat selection, spatial ecology, and landscape-scale processes. As a PI or Co-PI, he has secured and managed 132 grants totaling more than $22.1 million in extramural funding from a myriad of private, state, and federal agencies. From this body of work he has authored or co-authored 144 peer reviewed scientific articles, 14 book chapters, and 79 technical bulletins and semi-technical publications.
Dr. Burger's research has been recognized with the 2016 Ralph E. Powe Excellence in Research Award, the Dale Arner Distinguished Professorship in the College of Forest Resources, and 2 College of Forest Resources Outstanding Research Awards. In 2013 he was recognized as a Fellow in The Wildlife Society. Dr. Burger is a Grisham Master Teacher and 2-time recipient of the College of Forest Resources Outstanding Teaching Award. He is a 2013 Fellow of the Food Systems Leadership Institute and a 2017 Fellow of the SEC Academic Leadership Development Program.
Since 2009, Dr. Burger has held positions in research administration in the Geosystems Research Institute (GRI), the Mississippi Agricultural and Forestry Experiment Station (MAFES), and the Forest and Wildlife Research Center (FWRC). In his current roles as Associate Director of MAFES and Associate Director of FWRC, he helps to define, develop, and administer a broadly-based research program of national significance in agriculture and natural resources.