A quiet man for a noisy time--The Bill Giles years at Mississippi State
By Allen Snow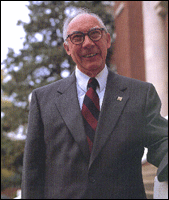 He's a quiet man who projects, more than anything else, an aura of humility. If you met him on the street, you'd notice the kindness in his face, would secretly envy his grandchildren, and, if you had to guess his occupation, almost certainly would mark him as a retired farmer.
At first glance, it's hard to believe that William Lincoln Giles led Mississippi State University through one of the most difficult periods in the nation's, and higher education's, history. That he did it successfully is a testament to his courage, grace, and keen administrative skills.
Born in Oklahoma and growing up in Little Rock, Ark., Giles earned bachelor's and master's degrees at the University of Arkansas and a Ph.D. in botany at the University of Missouri.
Following Army service during World War II and stints with the Soil Conservation Service in Kansas and the Agricultural Research Center in Maryland, he came to Mississippi State in 1949 as manager of the university's Seed Technology Laboratory. Three years later, he moved to the Delta Branch Experiment Station at Stoneville, which he managed for nine years before returning to campus in 1961 as vice president for agriculture and forestry.
In 1960, Progressive Farmer magazine named him Man of the Year in Agriculture, and three years later, the American Society of Soil Conservation named him Conservationist of the Year. In 1966, the same year he became the university's 13th president, he was elected president of the Association of Southern Agricultural Workers.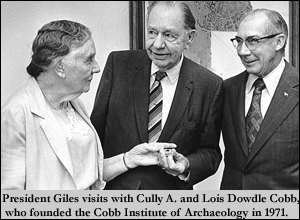 Giles inherited from his predecessor, Dean Wallace Colvard, a university that was still largely agricultural and local in scope, but primed for growth and change.
The stage had been set during Colvard's six-year tenure. Between 1960 and 1966, a spate of construction began at the fledgling university (Mississippi State College until 1958). New buildings included the Union, the Chapel of Memories, the Student Health Center, Hand Chemical Laboratory, Hilbun Hall, Evans Hall, and Walker Engineering.
The Mississippi State University Foundation was established and the university's five schools -- agriculture, engineering, business and industry, education, and arts and sciences -- became colleges. The first African-American student, Richard Holmes, enrolled without incident in the summer of 1965.
When Colvard left in 1966 to assume the chancellorship of the University of North Carolina at Charlotte, Giles took the reins amid an air of expectancy. As some who were here then described it, the university seemed poised to begin a new era.
For the next 10 years, under Giles' dignified, unobtrusive, and steady leadership, Mississippi State University experienced a period of growth unparalleled in the school's near-century of existence.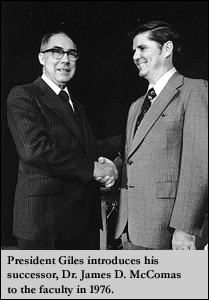 Enrollment skyrocketed from 8,000 to almost 12,000, with women and African-Americans accounting for most of the increase.
Some 35 buildings were constructed, enlarged, or renovated. New buildings included Allen Hall, McCool Hall, the Cobb Institute of Archaeology, and Humphrey Coliseum. The School of Architecture was established in 1973, as was the College of Veterinary Medicine in 1974.
Programs in all three of the university's mission areas -- teaching, research, and service -- were strengthened to meet changing demands, and the list of departments and majors grew dramatically.
The decade under Giles was marked by new levels of progress and expansion. But just as important in the long run were the less visible accomplishments.
The late '60s and early '70s was a period marked by social and political unrest on college campuses across the nation. Demonstrations, sit-ins, and riots mirrored a generation's growing demands for human rights and its opposition to the war in Vietnam. Serious questions arose as to whether the nation's centers of higher education -- ground zero in the explosion of the new consciousness -- could survive. Thanks in large measure to Giles' sincere approach to communicating with students, faculty, and the public at large, Mississippi State worked its way through those difficult years without violence and emerged as a progressive and more culturally aware institution.
As author Lin Wright observed in The First One Hundred Years, a history of the university's first century published in 1978, "Giles made it clear to all . . . who was in charge at Mississippi State. He spoke softly, but he let it be known that under no circumstances would he tolerate disruption. . . . But [the Giles administration] did communicate. Giles and his assistants sought dialog, not diatribe, and they paved the way for conscientious, straight-forward discussion of problems and their solutions. Doors were left open. Avenues were explored. Alternatives were agreed upon."
Eighteen years have come and gone since Bill Giles retired -- on his 65th birthday -- to his farm near Starkville. During that time, many changes have taken place, both for the university and for the former president.
Mississippi State Alumnus recently asked Giles to reflect on his tenure in office and to comment on the university as he sees it today and for the future.
---
Alumnus interview with W.L. Giles
Alumnus: What accomplishment or aspect of your presidency are you proudest of, and why?
Giles: It's a little difficult to pick any one thing. Naturally, the growth in student population was simply a reflection, I believe, of the confidence that the people of the state of Mississippi had in Mississippi State University. I suppose I'm proudest of the fact that we came through integration and the Vietnam era -- those two were together here, of course, and both were sources of turmoil -- stronger than when the events were occurring. I think our students came out of that era more tolerant of other people's views. I think they came to appreciate the rights of others. They were influenced to examine issues -- not simply to accept legend, but to look for the truth in things. I think they gained some courage and desire to examine issues and traditions and to see whether or not that should be done. The university and the administration were fortunate in having for the most part students who were very serious about getting an education and who had a desire to get on with the business of life, rather than tearing things down.
Another part of my administration that certainly I'm proud of is the increase in research on campus. My own background was in research, and it pleases me to see how the university has grown in its research effort. The level of research that is taking place today, not just in agriculture, but in engineering and all areas of the university, is remarkable.
Alumnus: A question that has arisen in some quarters recently concerns the compatibility of the teaching mission and the research mission. There are those who think it has to be either/or.
Giles: Being a land-grant institution, Mississippi State was founded with a research mission as well as a teaching mission, to expand the boundaries of knowledge through research. I have always felt that teachers who are also doing research can bring to their students some wonderful, fresh ideas and can inspire them to have imagination and interest in exploring the unknown and in finding information that they can't get from a textbook. Some of the finest teachers I've ever known have also been splendid researchers.
Another change that took place during my administration was the increase in the number of foreign students we have, and Mississippi State has always had some foreign students. Dr. Louis Wise did a great deal to attract foreign students through the Seed Technology Program. We at one time had activities in something like 35 countries around the world, and we started attracting a number of students in seed technology and other aspects of agriculture. They were soon followed by students who had interests in engineering and many other fields. So this led to quite an expansion in the number of students from other countries. That has, of course, made for diversity on campus. It has broadened the views of our own students -- many of whom come from rather small communities -- and this exposes them to people who may have quite different views and quite different lives than they have had, and this is very wholesome.
Alumnus: You had a very solid staff.
Giles: I was indeed most fortunate to have people who were really experts in their fields, who had come into administration from teaching and research positions. Like most of the students, they were interested in moving Mississippi State forward. The faculty and administrative officers at the university today would be amazed at how small some of the salaries were, and one of the wonderful things that took place during that time was the great work that Dean Harry Simrall did in building the College of Engineering. There was great competition for engineers, especially in academic positions. Our salaries were comparatively quite low, but he was able to attract excellent people to Mississippi State. Some of the very fine ones are still on the faculty and staff. So, that was a great accomplishment.
Alumnus: Was there one person whose advice and counsel you valued above others during your presidency?
Giles: I don't hesitate a moment in identifying that person as Dr. T.K. Martin. Dr. Martin has a bright, tough, orderly mind. He always shunned the limelight, but he was completely dedicated and completely loyal to the institution and to the president -- and that was not just loyalty to me personally, but to the position. He did some really monumental things during the period of integration in forseeing some of the problems that could arise, and in talking with students and faculty members. He did a great deal in the field of women's rights, and the university is profiting from that at the present time because it created an atmosphere that is very wholesome. A number of people today simply couldn't know that there was a time when there were faculty members who didn't want girls on campus, and there were alumni who were opposed to any effort to attract women to the university. But with the efforts made by both faculty and students, the institution did attract a lot of very fine women students. As time went on, the rights of women were recognized and there was a better understanding and appreciation of their contributions. The first women's varsity athletic program was begun in 1975 when we employed a full-time women's basketball coach.
Alumnus: A common complaint in higher education circles is that the public is not sufficiently aware of the value and critical necessity of the system's contributions to society. If you could present a brief argument on that point to every individual in America, what would you say?
Giles: I would simply say to people, look around you and see the good things that are happening in America and the advances that have been made in science and technology -- in medical research and in every field of technology -- that have brought us so many wonderful things. The source actually is the knowledge that has been gained almost exclusively in institutions of higher learning. But that is not all, and it might not even be the most important contribution that institutions of higher learning are making. Simply educating people so they appreciate values in living and appreciate art and literature and music -- all of the things that make for civilization, so that human beings can live in harmony and peace and understand each other. Now, I know that in a world as torn as ours is today, someone might say, 'Well, you've failed miserably.' That is not so. We have had conflict since the beginning of time. The great hope for the world today is to have values and to have respect for the rights of others and to have understanding of the problems of others, and to have compassion for the concerns and troubles of other people -- all of these are moral values that should be taught and preserved in institutions of higher learning. Institutions of higher learning are criticized for the emphasis they place on almost-professional sports programs that are nothing but entertainment. However, along with that (and I've been critical of this myself, I must say), the good in these programs is so enormous that we simply must never stop supporting them. One of the great advantages that our country has had over almost all others is the fact that our people have had access to higher education, more so than in any nation in the world. I think that accounts for much of the progress we have made. We were blessed with fertile soils and large areas of it and we have been able to produce food, certainly, but no country on the face of the earth has done more in agricultural research than our country, and no nation has done more in sharing its knowledge and its talents and its food than we have.
Alumnus: In a time of declining state support for universities, private support is more important to the future of Mississippi State than ever before. The university is in the middle of its first-ever major gifts campaign, to run through 1997. Please speak to the alumni about ways they can make a difference, beyond the obvious contribution of money, in the future of the university.
Giles: The money that the alumni give to the university can do some things that need doing on the campus in the way of expanding programs. We have a fine new addition to the library being built, and that's absolutely essential to the future of the university. But there are areas that the university simply doesn't have funds to support within the library, and funds from the alumni and friends of Mississippi State will help make that a truly great facility on the campus. One other aspect of the campaign is that it is identifying alumni who are now leaders in their fields. That, to me, is one of the great benefits that have come from this effort. These are individuals who are for the most part Mississippians, who came to Mississippi State and then went out into the world and could compete with graduates of any institution in the country. I should think that would be very inspiring to young people.
Alumnus: Speaking of influential alumni, there's an almost legendary story about E.B. McCool, the founder of Holiday Inns, who walked into your office one day --
Giles (laughing): Yes, yes . . .
Alumnus: Did that happen?
Giles: Yes, absolutely, it happened. It's almost too good to be true. We had planned a building for business and industry on campus. Business was terribly cramped. It was in Bowen Hall, and it had become one of the largest colleges on campus. The facilities were very poor, and we recognized that, so we had planned the funding of this building as our major effort with the Legislature in capital building funds. The Finance Committee in the state Senate had recommended that a half million dollars be cut off the budget for that building. We knew that the negotiations in the Legislature were in a critical period. I was in the office one day, and Mr. Barney McCool walked in. We were having some activity on campus, and he was up here for that. He was a very down-to-earth person, no pretense about him at all. He lived in Florida at the time. He came into my office dressed in an entirely green outfit. He had on green slacks, perhaps green shoes, and he wore a sort of tee-shirt affair that was green. He said, "I want to give the university some money." I said, "That's fine. The university needs some money." And then he said, "I'd like to do something in the area of business." I said, "Well, you're the fellow we're looking for. We're trying to get money to build this building, and the Legislature is threatening to cut half a million dollars off of what we're asking." He thought a little bit, and he said, "Well, why don't you do a little horse trading with those people? Why don't you get in touch with whoever you need to get in touch with, and tell them that if they will restore the half million dollars, I will give the university stock that will help add enough money to equip the building and do some things that you can't do even if they give you the half million." So, while he was in the office, we got the lieutenant governor, who was then Paul Johnson, on the telephone. Paul Johnson and I had known each other, and when he got on the phone, I told him the situation: that we had a man in the office who was willing to give some money if they restored the $500,000. And I remember clearly that he asked me, "Is this fellow for real?" And I said, "Well, he's sitting here and he's just as green as his money and his money's just as green as he is." I told him that Mr. McCool was one of the founders of Holiday Inns and had some of his original stock that he wanted to give to the university. The lieutenant governor said, "Well, you couldn't have called at a more critical time. We're debating that bill on the floor of the Senate right now." So he went back to the Senate and announced to them this proposal. They did restore the money, and Mr. McCool gave to us a block of very valuable Holiday Inn stock. This simply illustrates what alumni and friends can do for the benefit of the university. Mr. McCool came back to me after the building was under way, and he said, "I will never tell you how to run the business of the university, but I would like to make one suggestion, and you need not be bound by it. But if there's money over and above what is needed for the business and industry building, I'd like to see something done for the baseball building. When I was in school, I roomed with Paul Gregory [baseball head coach, 1957-74], and I would like to light the baseball field. So we did use money to light the baseball field, and at the time, it was equal to the lighting on professional baseball fields around the country.
On sanctions in football: I've said very often that I flunked football when I was in the president's office. We had some bright moments: we played in the Sun Bowl when Rockey Felker was the quarterback. The game was televised nationally, and a number of people from around the country told me afterward that it was the best bowl game of the season, and I thought so, too. It was a splendid game. We played North Carolina -- it was a very clean game, the score was close, and Mississippi State won. We were put on probation by the NCAA because one or more over-enthusiastic alumni gave one or more players some clothing and other benefits. It was a trying time for us, but we lived through that. I was, at the time, the president of the Southeastern Conference. I resigned that position when we went on probation, feeling that it was not right for a president whose school was on probation to hold the position.
Alumnus: That must have been a tough decision for you.
Giles: It was. And I got both some criticism and some support from people who felt that I had done the right thing -- as far as athletics were concerned -- to show my displeasure over the infraction of the rules. I don't know what history will say about it. One of the most amusing things that happened in my administration happened in connection with athletics. I received a very lengthy letter from an alumnus after the [football] season one year. It was about 10 pages, handwritten, and he criticized me for many things: for encouraging women to come to Mississippi State, for not only condoning but encouraging the recruitment of black athletes, for making ROTC voluntary rather than compulsory. This man was very bitter about some of the things I had done, but primarily bitter about a losing season in football. He had a great deal to say about that. At the end of each page, he would say, "There's more of this. If you're tired of reading, stop now." But I read on to the end. In response, I wrote him a very short letter saying I regretted that anyone was so bitter about anything, especially about Mississippi State University. I added, "I will pray for you." Well, I heard nothing more from him until after the football season the next year. He wrote me a shorter letter that time -- about four pages, as I recall -- and it was a little better, but not much. At the end, he said, "Incidentally, if you've been praying for the football team, don't pray for me."
Alumnus: Hopefully, we've gotten past that mindset. The university couldn't have progressed to the point it has without the influence of women and minorities.
Giles: Oh, yes. The attitudes are so fine and the leadership is excellent. The last two administrations have accomplished so much, and certainly our students are mature and Mississippi State is attracting the top students in the state. This all makes me feel very, very good.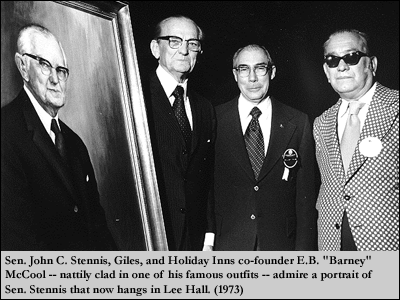 Alumnus: You have a lot to be proud of in setting the foundation. Would you like to talk about your relationship with the Board of Trustees?
Giles: Yes. Again, I believe it would be impossible for the faculty and students now on campus to believe that there was a time when there was a Board regulation requiring permission from the Board office for any individual -- other than faculty and students -- to speak on campus. This required prior approval, and was not limited to non-technical people. If the Physics Department wanted to invite an outstanding physicist to speak, that also required permission from the Board. The students requested that Charles Evers speak on campus. And, of course, he was a civil rights activist. His brother had been a civil rights activist and had been murdered. So, when the students, through official channels and meeting all the requirements for inviting speakers, brought this request to the president's office, it was up to us to make the request to the Board. We were well aware that this would cause great consternation with the Board and throughout the state. I did agree, and Dr. Martin agreed, that it should be done. So, we did send the request to the Board office for approval. A member of the Board at that time had said from a public podium that he was a racist. He really was not as mean as he sometimes sounded, but he was very strong on the matter of keeping the university all-white. So, when he learned from the executive secretary of the Board that this request had come from Mississippi State, approved by the president, he became quite upset. He called me at home, and blue smoke came out of my telephone. He called me some names that I had never heard. I had spent some of my early career in the West, and I knew some people who were quite gifted at profanity, but he invented some as he went. I didn't argue with him. Then the students, along with some faculty, brought a federal suit challenging the Board regulation that required prior permission for campus speakers. It came to be known as the Speakers Ban case. I've said from time to time that during my tenure as president, I became acquainted with the inside of every federal courthouse in the Northern District. In this case, I was listed as a defendant, although the students knew, and the faculty knew, that I agreed that we shouldn't have to have approval to have speakers on the campus. When I got on the stand and was questioned by the lawyer as a defendant, really, the judge turned to me and said, "Do you believe that having Mr. Evers as a speaker at Mississippi State University would be damaging to the students?" I said, "No, Your Honor, I believe that these students are mature enough to examine whatever a speaker might say and draw their own conclusions as to how they feel." He asked me another question or two, and my answering in that way incensed this Board member. After the trial, he wrote a lengthy letter to his fellow Board members and to the institutional heads criticizing my performance and pointing out how important it was to mind what the Board had told us. When the Board next met, he moved that my contract be terminated. On the Board at the time was Dr. Verner Holmes from McComb. He tried to point out how times were changing, and that we needed to change, as well. Dr. Holmes was an ear, nose, and throat specialist, but he saved my skin by getting up and making a very impassioned speech about how wrong this was, and how we needed to face the changes that were taking place and move with them rather than butting our heads against a wall. I thought that since he saved my skin, 'dermatologist' should be added to his title. Thanks in large measure to his argument, the Board did not vote to terminate my contract, and I lived -- maybe not happily -- but at least lived through this period.
Alumnus: I know that you have very strong feelings about the university's extension program.
Giles: Yes. There's a point that needs to be made here. One of the fine things that has happened to Mississippi State University is having a Cooperative Extension Service, where the university has professional representation in every county in the state of Mississippi. Each year, through the 4H Club program, we had hundreds of young students coming to the campus for their annual meetings, and this was so of the Future Farmers of America program. Most of the teachers were Mississippi State graduates, and they also brought young students to the campus. Most of these students had never been on a college campus. It introduced them to what would later become a university, and a number of them have told me that their interest in higher education was first stimulated by a visit to this campus when they were in their childhood. This did great things for Mississippi State and for the state's children. It inspired them to go on beyond high school.
Alumnus: Is there anything else you'd like to discuss this morning? I understand you're doing some gardening.
Giles: Yes, doing some gardening. I grow a vegetable garden each year. My wife and I grew some azaleas from seed that some very interesting things are coming out of. I have a lane of trees on the place that came from acorns from a tree on the site where the Student Health Center is now. When we came to the campus, the university had moved in some one-story barracks on the site now occupied by the Health Center. We had a number of veterans in school at the time, so there was a demand for teachers. That's the way some of us came to the campus. My wife, Jean, and I, and our young daughter, lived in one of these apartments. At our back screen door was a water oak sapling, and that is one of two trees that are still standing there. It's grown to be a good-sized water oak. My wife and I picked acorns from that tree and planted this lane of trees on our place. There are a lot of memories associated with it. They've now grown to sizable trees. I find gardening very relaxing, as well as fascinating. When my family and I had moved back to campus from the Delta Station, we went out to the South Farm one Sunday and we were walking around and came upon this grove of beautiful bur oak trees. Bur oaks had never been reported here. I picked some branches with acorns on them -- they have very large acorns -- and had them on my desk. I was then vice president for agriculture and forestry. A forester came by and asked me where I had gotten the bur oak acorns, and I said down on the South Farm. He said, "No, it hasn't been reported in Mississippi." I said, "Well, we've had botanists around here for all these years. I don't know why they've missed it, but they're down there." The foresters were amazed that they had never been found. They put a fence around the area and called it the William L. Giles Bur Oak Grove. When I retired, the members of the Mississippi Section of the American Society of Agronomy planted a bur oak in front of Allen Hall and put a nice bronze tablet there. When Mrs. Giles passed away in 1990, the administration planted another bur oak as a memorial to her, and this pleased me very much.