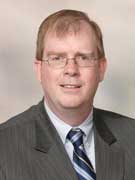 Dr. Keith H. Coble joined the faculty of the Agricultural Economics Department at Mississippi State University in December 1997. In 2009 he was named a W.L. Giles Distinguished Professor at the University. Coble received his B.S. and M.S. degrees at the University of Missouri and his Ph.D. in 1993 from Texas A&M University. Coble's background encompasses both academic and government experience. Dr. Coble came to Mississippi State after serving as a Team leader at the Economic Research Service of the U.S. Department of Agriculture.
Coble has published over 67 scientific research journal articles and 120 scientific conference papers addressing risk management, agricultural and food policy, renewable energy, climate, insurance, and experimental economics. At Mississippi State University he has received three College-level research awards and has been a principal investigator on several million in grants and contracts. In 2012, Coble delivered a Keynote Address at the International Agricultural Risk, Finance, and Insurance Conference in Beijing, China. Coble also received the Bruce Gardner Award from the USDA Economists group for his contribution to USDA policy analysis.
Coble teaches a capstone undergraduate class addressing food and agricultural policy. In this class he incorporates major team projects and a class debate to enhance reasoning and oral communication skills. In 2008, Coble received the Southern Agricultural Economics Association Distinguished Professional Contribution in the Teaching of a Course award for this class. In 2008, he received the Mississippi State University Gamma Sigma Delta Outstanding Teacher Award and advised the Southern Agricultural Economics Association outstanding M.S. thesis.
Within his profession, Coble is currently serving on the Board of Directors of Agricultural and Applied Economics Association (AAEA). Previously, he has served as the Chair of the Food and Agricultural Marketing Policy Section and was founding Chair of the Applied Risk Analysis section of the Agricultural and Applied Economics Association (AAEA). Coble has also served as Associate Editor of the American Journal of Agricultural Economics and the Journal of Agricultural and Applied Economics.
Coble's service activities include regularly speaking to groups and policy makers interested in food and agricultural policy. Coble has testified before Congressional Committees on three occasions and has co-authored over fifty reports for government agencies. His insurance analysis and studies have modified several billion dollars of U.S. crop insurance premiums per year. He has been appointed as an underwriting reviewer for Federal Crop Insurance Corporation Board of Directors and a member of the Advisory Committee on Biotechnology and 21st Century Agriculture - workgroup on size and scope of risks. Coble currently serves on the Council on Food, Agricultural and Resource Economics' Blue Ribbon Panel of Experts who provide guidance about national and international matters of significance to policy makers. Coble also has made invited presentations to the Organization for Economic Cooperation and Development, the Commodity Futures Trading Commission Advisory Committee, Senate Agriculture Committee Staff, Congressional Budget Office, and USDA Agricultural Outlook Forum.