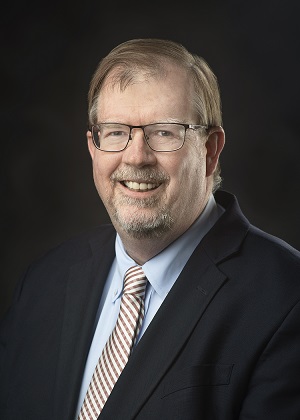 Dr. Keith H. Coble serves as the Vice President of the Division of Agriculture, Forestry, and Veterinary Medicine (DAFVM) at Mississippi State University. The Division is central to MSU's longstanding land-grant mission: research, teaching, and service. DAFVM faculty, staff, and students maintain our outstanding national reputation in a wide range of subject areas. As a result, Mississippi State is among the top 12 universities in the nation for Agricultural and Natural Resource research expenditures.
DAFVM includes six major units: Colleges of Agriculture and Life Sciences, Forest Resources, and Veterinary Medicine, plus the Mississippi Agricultural and Forestry Experiment Station, the Forest and Wildlife Research Center, and the MSU Extension Service. In addition, the Division encompasses four off-campus Research and Extension Centers, four CVM Diagnostic Labs, 16 Branch Experiment Stations, 82 County Extension Offices, and 1,500 employees.
In 2009 Coble was named a W.L. Giles Distinguished Professor at the University, an award reserved for those with a record of outstanding research, teaching, and service. In 2012 Coble received a Southeastern Conference Faculty Achievement Award.  Within his profession, Coble has been elected twice as a leader of his professional society, first as a board director and then president of the Agricultural and Applied Economics Association (AAEA) 2019-2020. In 2020, Coble was honored with the Southern Agricultural Economics Association Lifetime Achievement Award.  He was named to the USDA Advisory Committee on Agriculture Statistics for 2020-2022. Coble is also a Fellow of the Farm Foundation Round table.
He obtained his Ph.D. in agricultural economics from Texas A&M University in 1993. He then worked at the U.S. Department of Agriculture's Economic Research Service before joining the MSU Department of Agricultural Economics faculty in 1997.  Coble has published more than 100 scientific research journal articles and 165 scientific conference papers.  His work has made significant contributions to understanding agricultural risk management behavior and improving farm policy through innovative statistical analysis of insurance risk. He also has been a champion for the application of agricultural data analytics. 
As a faculty member, Coble held a three-way teaching/research/Extension appointment. For several years he taught an award-winning food and agricultural policy class.  In 2013-2014 Coble served as a Chief Economist for the U.S. Senate Agriculture, Nutrition, and Forestry Committee – helping to write the 2014 Farm Bill. He served as head of the MSU Department of Agricultural Economics and helped create a new online Masters of Agribusiness Management Degree. In addition, he led the department in increasing its data science focus.