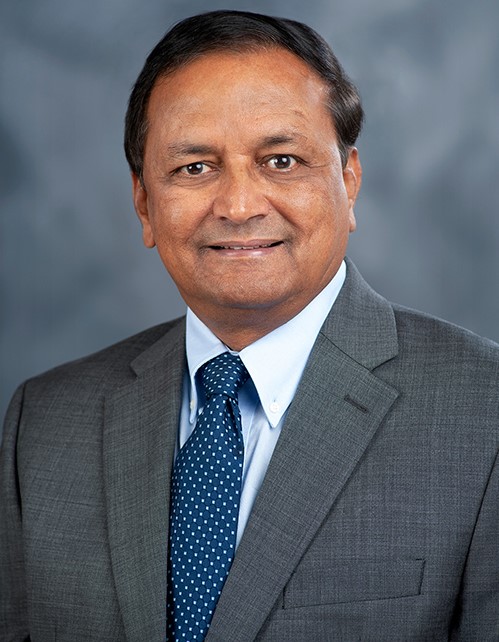 Dr. K. Raja Reddy received all his BS, MS, and Ph.D. degrees from Sri Venkateswara University, Tirupati, India, in 1975, 1977, and 1984.  He joined the Plant and Soil Sciences Department at Mississippi State in 1988 and became Research Professor in 1992. He was named a William L. Giles Distinguished Professor in 2021.
Dr. Reddy's research interests include the impact of anthropogenic climate change, remote sensing, and crop modeling applications on agricultural resource management through the lens of environmental plant physiology. He has over 33 years of research experience at Mississippi State and manages the state-of-the-art sunlit plant growth chambers known as Soil-Plant-Atmosphere-Research (SPAR, https://www.spar.msstate.edu/ ). He is responsible for and credited with many critical discoveries across multiple facets of agriculture. His research includes the impact of climate change on crop physiology, growth, and development of several outstanding foods, fiber, and native grassland and forages crops of global importance - cotton, soybean, rice, corn, sorghum, sweet potato, switchgrass, Bahiagrass, many horticultural crops, and domain expertise areas of remote sensing and stress physiology; and crop model applications.
Dr. Reddy has over 300 publications, including two books written, four edited volumes, and over 30 book chapters. In addition to his research obligations, he developed a capstone graduate-level course, environmental plant physiology, that interfaces research, teaching, and learning based on research work he conducted using state-of-the-art SPAR facilities at Mississippi State. He received external funding from federal, state commodities boards and private industry to support his research and training program.
Dr. Reddy has received several recognitions and awards: SEC Faculty Achievement Award (2019), the MSU's Ralph E. Powe Award (2012), ICAC Cotton Researcher of the Year Award (2020), the Outstanding Research Award in Cotton Physiology (2010) by the National Cotton Council of America, the Mississippi Academy of Sciences Outstanding Contributions Science Award (2020), the DAFV's Superior Faculty Research Award (2018) and International Service Award (2016),  the MAFES's Excellence in Research Awards (2006, 2018), and six-times MAFES's Outstanding Publication Awards (2002, 2006, 2012, 2014, 2018, 2021). In addition, he became elected Fellow of the American Society of Agronomy (2005), the Crop Science Society of America (2006), the American Association for the Advancement of Science, AAAS (2020), and the Mississippi Academy of Sciences (2021). In 2021, he was listed as one of the World's Top 2% Scientists by Stanford University in Biology.
 He has trained over 40 visiting and 16 postdoctoral scientists, 26 graduate students (16 Ph.D. and 10 MS), and five undergraduate research scholars from across the world in multiple areas such as crop stress physiology, climate change, crop modeling, remote sensing, and global food security.
Outside of his numerous academic and research obligations, Dr. Reddy serves as faculty advisor of the Indian Student Association on campus. In the Starkville community, he is actively involved with the Kiwanis Club. Dr. Reddy has extended his leadership skills to the organization by chairing numerous committees, the Kiwanis Board, and even serving as chapter President. Dr. Reddy is also actively involved in nurturing and engaging local High School Key Club students in developing service-leadership skills and 4-H students by providing global mindedness and citizenship through various campus programs. He enjoys photography, cooking, and entertaining families and friends with east-west fusion spicy food.