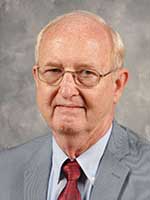 Richard L. Brown was named W.L. Giles Distinguished Professor of Entomology in the Biochemistry, Molecular Biology, Entomology, and Plant Pathology Department in 2016. He received his B.S. (1970) and M.S. (1973) from University of Arkansas and his Ph.D. from Cornell University (1980). Dr. Brown has served as the Director of the Mississippi Entomological Museum at Mississippi State University since 1980 and teaches courses in insect taxonomy, immature insects, and aquatic insects. He was an Adjunct Assistant Professor of Baylor University while serving as a Medical Entomologist in the U.S. Army during 1973-1974 and an Adjunct Professor of Kasetsart University, Thailand during 2002-2006.
The Mississippi Entomological Museum, under Dr. Brown's direction, has tripled in size and now includes more than 1.2 million data-bearing specimens that document insect diversity in various habitats. Researchers from 31 institutions in the U.S. and five other countries have visited the museum because of its unique holdings. Short-term loans of specimens in the museum have been made to 418 researchers in 42 states and 16 countries to support their taxonomic work. The museum sponsors the Moth Photographers' Group website, which is the world's most complete collection of photographs of species occurring in the United States. The Museum has served as USDA-APHIS Regional Identification Center for exotic plant pests since 2009. In addition to external funding from numerous state and federal agencies, annual support is obtained from three endowments in the MSU Foundation.
Dr. Brown's research has concentrated on morphology and systematics of moths, especially the microlepidoptera, but he has also investigated the phylogeography of the invasive cactus moth, evolution of pheromones in tortricid moths, acoustic communication in ants, and biogeography of insects in grasslands. Dr. Brown's involvement in documenting diversity of moths and other insects has included being a member of expeditions to remote areas of Venezuela and Fiji Islands as well as fieldwork in New Caledonia, Chile, Thailand, Puerto Rico, Costa Rica, and 26 states of the U.S. Among the several hundred species new to science that he has collected, five species have been named after him.
Dr. Brown was the 2015 recipient of the John Abbot Award for achievement presented by Southern Lepidopterists Society. He has previously received the Distinguished Alumni Award from the Department of Entomology, University of Arkansas, the Entomological Society of America Editors Choice Award for Outstanding Paper of the Year, the First Mississippi Corporation Award of Excellence for Outstanding Work in MAFES, and the Mississippi Entomological Association Distinguished Service Award.